Winter Conditions in the Alpine
This forecast was published 10/27/2018 at 7:00 AM.
A new bulletin will be issued when conditions warrant.
An early visit from old man winter deposited close to 29″ of snow through the last week of October on the summit of Mount Washington. While a return to warmer temperatures brought freezing rain and then rain and above freezing temperatures, snow on the ground will likely be around for a while. All this snow yielded some early turns for skiers and some crown lines indicating some avalanche activity. Where the snow has fallen and drifted into continuous snowfields, any new snow may find a bed surface to release another avalanche. An new snow means that it will be important to play by the rules of winter, even though the calendar says early November. Here's a checklist to use as a starting point if you are considering a trip into the high country.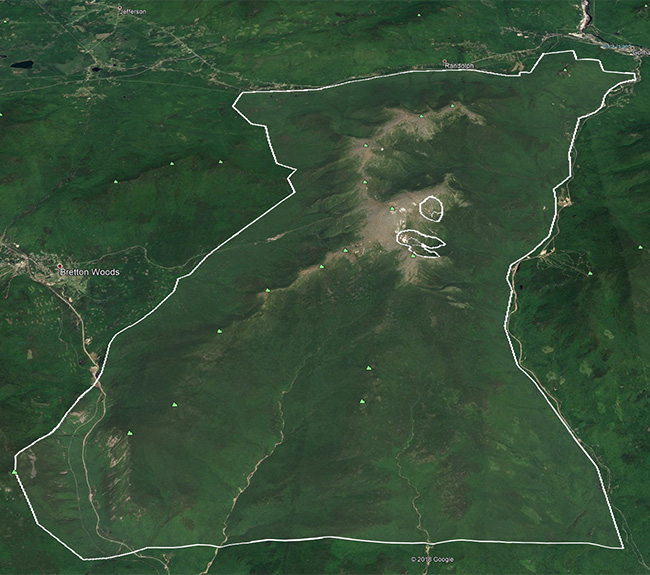 Bring the gear you'd bring in mid-winter including a beacon, probe and shovel. Perform your group beacon check before you leave the car…the batteries last a long time but not forever if you forget to turn it off. Corrosion due to batteries left in your device can damage your beacon. If you haven't already practiced with your beacons, now is a good time to do that.
Plan to be self-sufficient if someone gets injured. Waiting for rescue is seldom your best choice. A lightweight, improvised rescue sled kit or some means of transporting a person with an incapacitating injury should be part of your group gear.
Any continuous slope in the 30-40+ degree range should be evaluated for it's ability to produce an avalanche. Denser snow over softer snow, either from wind packing or warming or rain should be considered suspect. Travel one at a time and avoid lingering in fall line. Helmets are a great idea.
Early season avalanches, no matter how small, are dangerous. Rocks and cliffs in the runout of a slide path means that traumatic injury or worse can result if you get caught in a slide. Flat spots on a slope, trees and boulders can serve as terrain traps that pile snow deeply enough to bury a person.
Avalanches don't care about danger ratings or how good a skier you are. 5 scale avalanche advisories will be posted when snowfields grow further and when winter has fully taken hold. As always, you control your exposure to the risk of avalanche and other mountain hazards by choosing where, when, and how you travel.
The ground is not yet solidly frozen, meaning loose rocks are beneath all of this snow. Be sure to account for increased travel time due to challenging travel conditions, even below treeline. The wind that accompanied this week's snow brought plenty of trees and branches down onto the trails, further complicating travel. Remember the days keep getting shorter, so don't forget your headlamp!
Hermit Lake Snow Plot
Date
24H
HN24W
(SWE)
Density
Total
Air T
T Max
T Min
Sky
Precip
12/16/18
05:24
0 CM
0 MM
106 CM
-8.5 C
-1.0 C
-10.0 C
Clear
No precipitation
12/15/18
05:25
0 CM
0 MM
108 CM
-1.0 C
-1.0 C
-17.5 C
Overcast
No precipitation
12/14/18
05:38
0 CM
0 MM
108 CM
-4.0 C
-3.0 C
-17.5 C
Clear
No precipitation
12/13/18
05:25
1 CM
0.1 MM
110 CM
-17.0 C
-11.0 C
-19.0 C
Clear
No precipitation
12/12/18
05:35
2 CM
0.1 MM
110 CM
-11.0 C
-7.5 C
-15.0 C
Obscured
Snow
Please Remember:
Safe travel in avalanche terrain requires training and experience. This bulletin is just one tool to help you make your own decisions in avalanche terrain. You control your own risk by choosing where, when, and how you travel.
Anticipate a changing avalanche danger when actual weather differs from the higher summits forecast. For more information contact the Forest Service Snow Rangers, the AMC at the Pinkham Notch Visitor Center, the Mount Washington Volunteer Ski Patrol or the caretakers at Hermit Lake Shelters.
Posted 10/27/2018 at 7:00 AM. A new bulletin will be issued when conditions warrant.
Frank Carus, Lead Snow Ranger
USDA Forest Service
White Mountain National Forest