General Bulletin for Saturday, November 24, 2018
This forecast was published 11/24/2018 at 7:00 AM.
A new bulletin will be issued when conditions warrant.
General Bulletins are issued when unstable snow may exist within our forecast areas but before 5-scale avalanche forecasts begin. We will start 5-scale forecasts on Wednesday, November 28 which will include an added forecast for the Northern Presidential range, 7 total forecast areas for Huntington and Tuckerman Ravines and a new layout to help you identify avalanche problems in the field. Please remember that avalanches can and do occur before daily 5-scale avalanche forecasts are issued.
A passing cold front brought intense snow squalls Tuesday afternoon and added another 4.5" to the 4" of snow that fell the day prior. So far this month, the summit has recorded 44" of snow and the steep east facing terrain is showing clears signs of this snowfall. Continuous snow slopes in Tuckerman Ravine, with its great amount of fetch, have grown considerably in the past two days following high wind speeds and intense wind loading. Gulf of Slides gullies are also filling out with avalanche debris reported in Gully 1 and 3. Debris from several natural avalanches was also observed in the center and left side of Tuckerman Ravine and likely occurred Tuesday afternoon or early Wednesday. Some wind-transported snow was flying at the ridgetops early this morning meaning many of the existing wind slabs are fairly recent and may not be fully bonded to snow beneath. Low temperatures slowly rose from -26F on Thursday but remained cold enough through Friday to further delay the stabilizing process.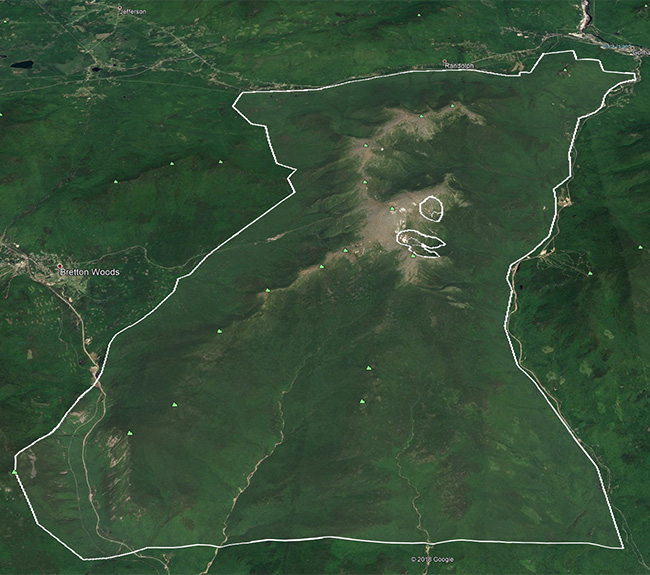 If you are planning to take advantage of the warming temperatures Saturday, expect to find firm wind slabs with pockets of softer snow in a few sheltered areas. There is a sugary layer beneath the melt/freeze crust to keep on your radar. This layer may have failed during the most recent avalanche cycle, and could still be a player in the unlikely event you trigger one of the more recent hard slabs. Probe with your ski pole handle or ice axe, dig a pit or do hand shears before committing to a slope. Don't let the firm nature of the slab lull you into thinking that it can't avalanche. Remember that the first warming of a cold snowpack, such as we'll see to some extent on Saturday,  can spell trouble as slabs loose strength. Snow will arrive Saturday night and may turn to sleet or rain at Ravine elevations on Sunday.  A more significant storm is forecast for Monday and Tuesday. Stay tuned and remember that wind loading can turn a few inches of snow into a thick wind slab in our windy terrain.
Ice climbs are growing in size and pockets of unstable snow between ice pitches are notorious for causing problems.  In addition to avalanche hazards, remember to take into account other early season hazards that exist in the terrain:
Rocks, trees and bushes lurk in the snow and in the fall line. Skiing or sliding into obstacles can ruin your day or worse. New snow may just barely cover a season ending stump or boulder.
Terrain traps and cliffs make burial and significant injury a real possibility, even if you are only swept off your feet by a small avalanche.
The Winter Lion Head Route is open. This route avoids the avalanche paths that threaten the summer trail and is the most direct route to the summit from the east side. Be advised that all the recent snowfall drifted chest deep near treeline, making snowshoes more than just a good idea on Saturday!
We have received some great snow and avalanche observations from folks in the field. Thanks, and keep them coming!
Hermit Lake Snow Plot
Date
24H
HN24W
(SWE)
Density
Total
Air T
T Max
T Min
Sky
Precip
12/16/18
05:24
0 CM
0 MM
106 CM
-8.5 C
-1.0 C
-10.0 C
Clear
No precipitation
12/15/18
05:25
0 CM
0 MM
108 CM
-1.0 C
-1.0 C
-17.5 C
Overcast
No precipitation
12/14/18
05:38
0 CM
0 MM
108 CM
-4.0 C
-3.0 C
-17.5 C
Clear
No precipitation
12/13/18
05:25
1 CM
0.1 MM
110 CM
-17.0 C
-11.0 C
-19.0 C
Clear
No precipitation
12/12/18
05:35
2 CM
0.1 MM
110 CM
-11.0 C
-7.5 C
-15.0 C
Obscured
Snow
Please Remember:
Safe travel in avalanche terrain requires training and experience. This bulletin is just one tool to help you make your own decisions in avalanche terrain. You control your own risk by choosing where, when, and how you travel.
Anticipate a changing avalanche danger when actual weather differs from the higher summits forecast. For more information contact the Forest Service Snow Rangers, the AMC at the Pinkham Notch Visitor Center, the Mount Washington Volunteer Ski Patrol or the caretakers at Hermit Lake Shelters.
Posted 11/24/2018 at 7:00 AM. A new bulletin will be issued when conditions warrant.
Frank Carus, Lead Snow Ranger
USDA Forest Service
White Mountain National Forest