Avalanche Forecast for Wednesday, November 28, 2018
This forecast was published 11/28/2018 at 7:08 AM.
A new forecast will be issued tomorrow.
New snow and wind yesterday, overnight, and continuing in lighter amounts today is resulting in a variety of wind and storm slab avalanche problems throughout the Presidential range. Dangerous avalanche conditions exist on and below steep slopes of all aspects. Additional loading via snowfall and wind today will keep any stabilization of storm snow to a minimum through this forecast period. Weak layers of concern exist both within the storm snow and at the interface with the crust beneath it. All terrain is rated CONSIDERABLE today. With early season hazards like rocks and vegetation continuing to elevate the consequence of any avalanche, it's a great day to enjoy the new snow outside of avalanche terrain.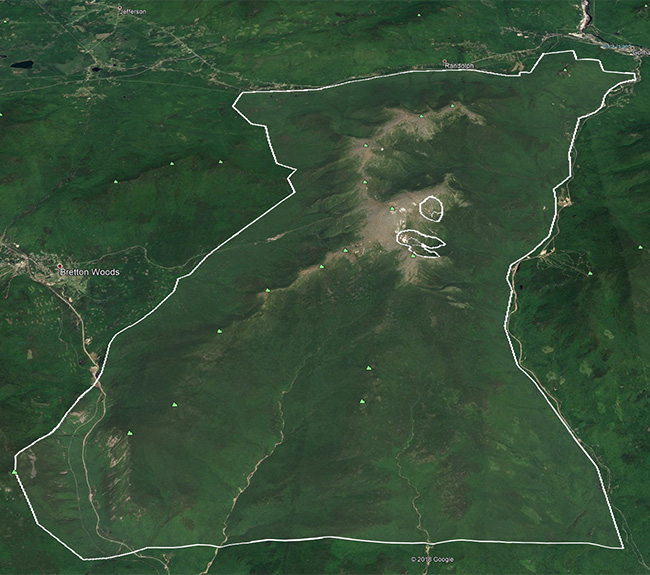 Winter is here in a big way. The Hermit Lake snow plot recorded 9 inches of new snow this morning, on top of 12 inches in the prior 24 hour period. Yesterday's snow fell on strong easterly winds, 40-70 mph on the summit, which have tapered to 20-30 mph and shifted westerly. Additional snowfall today should total 3-5 inches as W and NW wind continues and increases towards 50 mph on the summit after dark. We expect wind transport of snow on the ground to continue through the day. Visibility is forecast to remain limited at best for the higher summits.
Primary Avalanche Problem – Wind Slab
A variety of wind slabs exist and continue to build in the terrain. New and relatively soft wind slabs will be found on easterly aspects, formed overnight and continuing to build today. These slabs may exhibit less cohesion than a traditional Mount Washington wind slab. Beneath the new snow overnight, firmer wind slabs formed from easterly winds yesterday are most likely to be found on the western half of the compass rose. Disguised by new snow and today's lack of good visibility, these complex layers of wind slab with great spatial variability will make your stability assessments particularly challenging today.
What is a Windslab Avalanche?
  Wind Slab avalanches are the release of a cohesive layer of snow (a slab) formed by the wind. Wind typically transports snow from the upwind sides of terrain features and deposits snow on the downwind side. Wind slabs are often smooth and rounded and sometimes sound hollow, and can range from soft to hard. Wind slabs that form over a persistent weak layer (surface hoar, depth hoar, or near-surface facets) may be termed Persistent Slabs or may develop into Persistent Slabs.
Secondary Avalanche Problem – Storm Slab
Wind sheltered areas will hold storm slabs up to several feet in thickness, while shallower storm slab formed on the lighter wind overnight will be more widespread. The somewhat dense new snow will have the ability to behave as a cohesive slab and produce an avalanche in any steep terrain.
What is a Storm Slab Avalanche?
  Storm Slab avalanches are the release of a cohesive layer (a slab) of new snow that breaks within new snow or on the old snow surface. Storm-slabs typically last between a few hours and few days (following snowfall). Storm-slabs that form over a persistent weak layer (surface hoar, depth hoar, or near-surface facets) may be termed Persistent Slabs or may develop into Persistent Slabs.
Weak layers both within the storm snow of the past 48 hours and at the interface of this new snow and the underlying crust will be of concern today. While unstable slabs formed Monday night will have gained some stability, this will largely be negated by additional loading by new snow and wind transport. Areas lee of a W and NW wind will experience the most loading from today's wind. Spatial variability is the name of the game today, with relatively soft wind and storm slabs existing at the surface and layered over yesterday's varied slabs. Additionally, we expect varied bonding of the new snow to the pre-existing crust. If you venture into avalanche terrain today, realize that your stability tests will likely not be representative of terrain outside the immediate area of your pit. We may not see natural avalanches today, or avalanches exceeding D2 in size. That said, human triggered avalanches will be likely and in many areas large enough to bury, injure, or kill a person.
Hermit Lake Snow Plot
Date
24H
HN24W
(SWE)
Density
Total
Air T
T Max
T Min
Sky
Precip
12/16/18
05:24
0 CM
0 MM
106 CM
-8.5 C
-1.0 C
-10.0 C
Clear
No precipitation
12/15/18
05:25
0 CM
0 MM
108 CM
-1.0 C
-1.0 C
-17.5 C
Overcast
No precipitation
12/14/18
05:38
0 CM
0 MM
108 CM
-4.0 C
-3.0 C
-17.5 C
Clear
No precipitation
12/13/18
05:25
1 CM
0.1 MM
110 CM
-17.0 C
-11.0 C
-19.0 C
Clear
No precipitation
12/12/18
05:35
2 CM
0.1 MM
110 CM
-11.0 C
-7.5 C
-15.0 C
Obscured
Snow
Please Remember:
Safe travel in avalanche terrain requires training and experience. This bulletin is just one tool to help you make your own decisions in avalanche terrain. You control your own risk by choosing where, when, and how you travel.
Anticipate a changing avalanche danger when actual weather differs from the higher summits forecast. For more information contact the Forest Service Snow Rangers, the AMC at the Pinkham Notch Visitor Center, the Mount Washington Volunteer Ski Patrol or the caretakers at Hermit Lake Shelters.
Posted 11/28/2018 at 7:08 AM. A new forecast will be issued tomorrow.
Ryan Matz, Snow Ranger
USDA Forest Service
White Mountain National Forest