Avalanche Forecast for Monday, December 3, 2018
This forecast was published 12/03/2018 at 6:48 AM.
A new forecast will be issued tomorrow.
A refreeze of our recently wetted snowpack will increase stability though the day as new snow and wind builds isolated pockets of wind slab by this evening. Avalanche danger will at first decrease, due to the refreeze, and then increase, due to new wind slab formation. Watch for the development of unstable snow on isolated terrain features as the day progresses. All forecast areas will have LOW avalanche danger. Today is an excellent example of the range of conditions which fit within a Low avalanche danger rating. Developing wind slabs will be of greater likelihood but smaller size than the current larger but less likely avalanche problem of wet slab. Of greater concern today may be the developing hard and slick snow refrozen snow conditions which will make crampons and ice axe necessary tools by later today, as well as increase the consequence of even a small avalanche.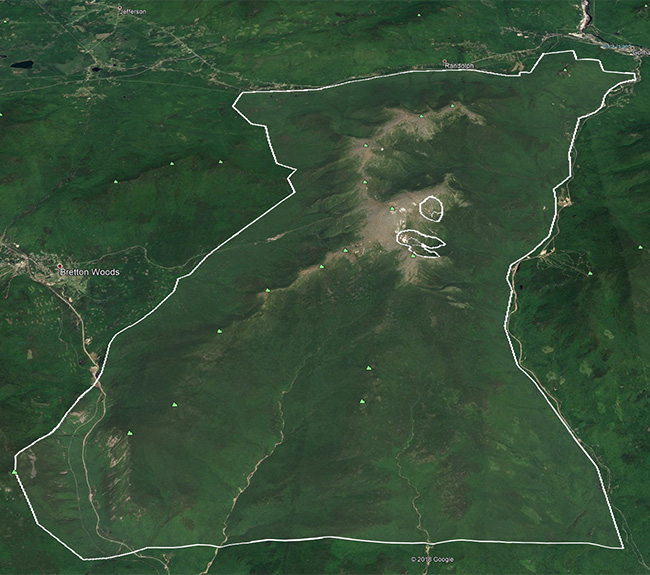 Above freezing temperatures and mixed precipitation made for a soggy day in the mountains yesterday. 0.62" of precipitation was recorded on the summit, most of which fell as plain rain late in the day and into the evening. It's currently 36F at Hermit Lake and 29F on the summit, with reports that the snow surface is barely beginning to refreeze at Hermit Lake. Temperatures will fall continuously today and tonight, ultimately ending up about 30 degrees F colder by tomorrow morning. Precipitation is transitioning back to snow and currently falling in light amounts, and we may receive another 2-4 inches of snowfall by midnight, when this forecast expires. NW wind will increase through the day, forecast to peak around 70 mph on the summit early this evening, which should also be the period of heaviest snowfall.
Primary Avalanche Problem – Wind Slab
Peak snowfall rates coinciding with peak wind speeds today should form any snow which falls in the alpine into pockets of wind slab. By the time these small wind slabs develop, the existing snow should be solidly refrozen. Expect pockets of reactive but small wind slab on the eastern half of the compass rose and be on the lookout for potentially larger wind slabs if weather differs from the forecast.
What is a Windslab Avalanche?
  Wind Slab avalanches are the release of a cohesive layer of snow (a slab) formed by the wind. Wind typically transports snow from the upwind sides of terrain features and deposits snow on the downwind side. Wind slabs are often smooth and rounded and sometimes sound hollow, and can range from soft to hard. Wind slabs that form over a persistent weak layer (surface hoar, depth hoar, or near-surface facets) may be termed Persistent Slabs or may develop into Persistent Slabs.
Secondary Avalanche Problem – Wet Slab
Wet slab avalanches will become increasingly unlikely today as the snow refreezes. If you're out early this morning or at lower elevations wet slab avalanches will be your primary though still unlikely avalanche problem.
What is a Wet Slab Avalanche?
  Wet Slab avalanches are the release of a cohesive layer of snow (a slab) that is generally moist or wet when the flow of liquid water weakens the bond between the slab and the surface below (snow or ground). They often occur during prolonged warming events and/or rain-on-snow events. Wet Slabs can be very unpredictable and destructive.
A variety of recently formed storm and wind slab layers seemed well on their way towards stability prior to the current wet weather event. The upper snowpack was wetted yesterday at all elevations, shifting our avalanche problems accordingly to the wet varieties. The relatively slow addition of moisture and warming to the upper snowpack has resulted in stability concerns, albeit relatively minor. That said, it's always worth noting that wet slab avalanches are notoriously tricky to forecast.
Stability of the snowpack will increase significantly today as the refreeze occurs. As and after the upper snowpack freezes, new wind slabs forming from today's light snowfall be become the primary avalanche problem. These wind slabs should be small and isolated, but with a slick refrozen surface on the way and many early season hazards still exposed, a small avalanche could cause big problems.
A refreezing snow surface will become quite hard and slick, making crampons and ice axe necessary travel tools on steep snow slopes by the end of the day today.
Hermit Lake Snow Plot
Date
24H
HN24W
(SWE)
Density
Total
Air T
T Max
T Min
Sky
Precip
12/16/18
05:24
0 CM
0 MM
106 CM
-8.5 C
-1.0 C
-10.0 C
Clear
No precipitation
12/15/18
05:25
0 CM
0 MM
108 CM
-1.0 C
-1.0 C
-17.5 C
Overcast
No precipitation
12/14/18
05:38
0 CM
0 MM
108 CM
-4.0 C
-3.0 C
-17.5 C
Clear
No precipitation
12/13/18
05:25
1 CM
0.1 MM
110 CM
-17.0 C
-11.0 C
-19.0 C
Clear
No precipitation
12/12/18
05:35
2 CM
0.1 MM
110 CM
-11.0 C
-7.5 C
-15.0 C
Obscured
Snow
Please Remember:
Safe travel in avalanche terrain requires training and experience. This bulletin is just one tool to help you make your own decisions in avalanche terrain. You control your own risk by choosing where, when, and how you travel.
Anticipate a changing avalanche danger when actual weather differs from the higher summits forecast. For more information contact the Forest Service Snow Rangers, the AMC at the Pinkham Notch Visitor Center, the Mount Washington Volunteer Ski Patrol or the caretakers at Hermit Lake Shelters.
Posted 12/03/2018 at 6:48 AM. A new forecast will be issued tomorrow.
Ryan Matz, Snow Ranger
USDA Forest Service
White Mountain National Forest