Avalanche Forecast for Friday, November 30, 2018
This forecast was published 11/30/2018 at 6:58 AM.
A new forecast will be issued tomorrow.
Existing wind slab is present on most avalanche prone slopes with a variety of firmness. The size of avalanche paths has rapidly grown over the past week with some gullies close to fully developed while others are still in an early season nature with a bounty of obstacles that may create harsher consequences. All forecast areas will have a MODERATE rating today due to possibility of human-triggered avalanches. With a good amount of snow having arrived this past week on shifting wind direction and speed, careful snowpack evaluation on the way up and down will be key to a safe adventure in the mountains. Weather will promote settlement and bonding today, but the early-season nature of our snowpack adds another layer of complexity to safe travel.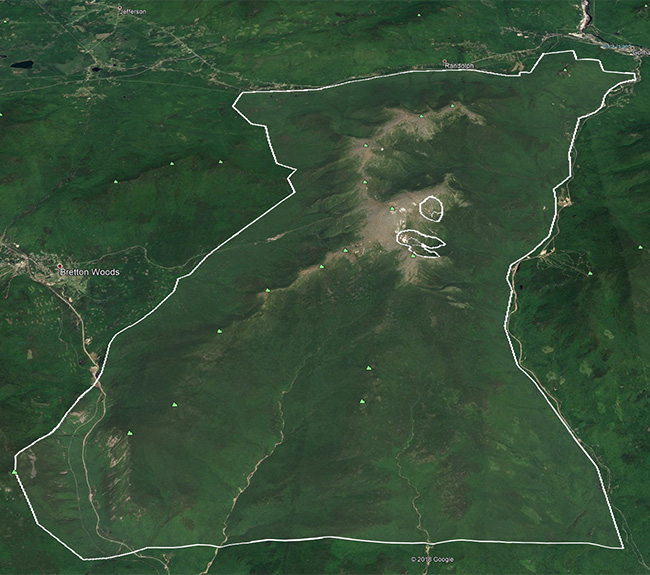 The last day of November will provide a pleasant change from the rest of the month. About another inch of snow arrived yesterday on NW wind in the 40-60mph range. Hourly weather observations are unavailable at the moment, so it's unclear when the wind speeds shut down, but currently this morning, wind is from the NW at 10mph. High pressure in the region today has cleared skies, will keep temperatures in the 20sF and wind speeds almost in the single digits for daylight hours. A passing front tonight should bring late day clouds and possibly snow flurries accumulating up to an inch before the next wave of high pressure arrives for Saturday.
Primary Avalanche Problem – Wind Slab
Low wind speeds combined with clear skies today will load no additional snow. Existing wind slab is likely widespread on most terrain. Firmer wind slab may have enough strength to bridge existing weak layers, but many terrain features that were only recently covered are lurking as weak spots and will be hard to discern. Areas of softer slab can be found too, and while they may be more reactive to start the day, warmer temperatures today will promote settlement and bonding through the snowpack.
What is a Windslab Avalanche?
  Wind Slab avalanches are the release of a cohesive layer of snow (a slab) formed by the wind. Wind typically transports snow from the upwind sides of terrain features and deposits snow on the downwind side. Wind slabs are often smooth and rounded and sometimes sound hollow, and can range from soft to hard. Wind slabs that form over a persistent weak layer (surface hoar, depth hoar, or near-surface facets) may be termed Persistent Slabs or may develop into Persistent Slabs.
The surface of our snowpack largely consists of wind slab with possible areas of scouring down to the crust that formed this past weekend. Snow appears to have bonded to the crust and observations indicate that failure is more likely in the layered wind slab. While this may be the case, faceting is present just below the crust which has proven not fully supportive and could add to the volume of snow of an avalanche. Today's weather will help settle our snowpack and create further bonding of the many layers, though careful snowpack evaluation should be your determining factor of increased stability.
Your observations are helpful to our goal of providing as much information as possible to our readers. They don't have to be professional level, but if you have photos of snowpits, avalanche activity or even obscure slide paths, submit your observation here.
If you are a regular consumer of our avalanche forecast, you may have noticed the change of title from Advisory to Forecast. The change is mostly semantic and is meant to keep a consistent product throughout the country's avalanche centers and the avalanche education world's efforts.
Hermit Lake Snow Plot
Date
24H
HN24W
(SWE)
Density
Total
Air T
T Max
T Min
Sky
Precip
12/16/18
05:24
0 CM
0 MM
106 CM
-8.5 C
-1.0 C
-10.0 C
Clear
No precipitation
12/15/18
05:25
0 CM
0 MM
108 CM
-1.0 C
-1.0 C
-17.5 C
Overcast
No precipitation
12/14/18
05:38
0 CM
0 MM
108 CM
-4.0 C
-3.0 C
-17.5 C
Clear
No precipitation
12/13/18
05:25
1 CM
0.1 MM
110 CM
-17.0 C
-11.0 C
-19.0 C
Clear
No precipitation
12/12/18
05:35
2 CM
0.1 MM
110 CM
-11.0 C
-7.5 C
-15.0 C
Obscured
Snow
Please Remember:
Safe travel in avalanche terrain requires training and experience. This bulletin is just one tool to help you make your own decisions in avalanche terrain. You control your own risk by choosing where, when, and how you travel.
Anticipate a changing avalanche danger when actual weather differs from the higher summits forecast. For more information contact the Forest Service Snow Rangers, the AMC at the Pinkham Notch Visitor Center, the Mount Washington Volunteer Ski Patrol or the caretakers at Hermit Lake Shelters.
Posted 11/30/2018 at 6:58 AM. A new forecast will be issued tomorrow.
Helon Hoffer
USDA Forest Service
White Mountain National Forest